PRP  TREATMENT- THE REGEN® LAB
PLATELET-RICH PLASMA (PRP): YOUR OWN ENRICHED PLASMA IN REGENERATIVE MEDICINE AS ANTI-AGING TREATMENT

It's a revolutionary treatment. It essentially harnesses and increases the body's own ability to heal tissue and create a more youthful skin. The technique is simple, quick and safe. It involves removing a blood sample, spinning it to concentrate the plasma's healing and collagen producing factors and then injecting this back under the skin.
A new approach, appealing to clients seeking a more natural method to facial rejuvenation, is regeneration with your own cells and more specifically, autologous platelet-rich plasma (PRP).
Platelet-Rich Plasma (PRP) has been utilized in aesthetic medicine to rejuvenate and slow down the aging process and face (2006). This refers to mesenchymal and epithelial rejuvenation by application of the persons own enriched autologous plasma. Recently, ACR-PRP has been pioneered for facial rejuvenation in select patients with chronological aging, and solar damage. Regeneration or anti-aging by biological stimulation of resident stem cells by growth factors.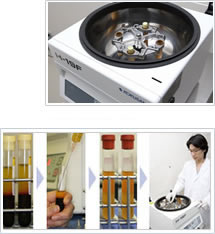 Science supports the use of PRP for the augmentation and regeneration of hard and soft tissues. PRP is the source of concentrated platelet content present in blood. Apart from assisting blood clotting, platelets also release growth factors that assist the human body to repair itself by stimulating cells to regenerate new tissue. Today, platelet rich plasma can easily be separated from blood, through a process of centrifugation. Using your enriched plasma permits the body to heal faster and more efficiently. Because your plasma (autologous) is used, there is no danger of disease transmission, anaphylaxis or neoplasia.
It is well known that platelets have many functions. Platelets contain important growth factors that, when secreted, are responsible for: increasing collagen production, recruiting other cells to the site of injury, initiating vascular in – growth, inducing cell differentiation, bone – mineralization, extra cellular matrix formation, Non – Allergenic.
Case studies reported have demonstrated consistent rejuvenation of facial aging, including wrinkling in persons with modest grades of photo- or chronological aging. Patient selection is important and skin diseases have to be excluded. Improvement of skin texture and tone can be expected, these features are noticeable within 3 weeks, and the process can be enhanced by addition of appropriate Cosmeceutical. It is recomended to do 2 sessions per year.  Benefits include non-allergenic properties and ease of administration.
THE PROCESS IS –
SAFE and Physiologically Active
Preparation is Simple and Quick, and completed on the Physicians premises in the appointment time. No products are sent off premises.
Can be used in multiple areas for dermal rejuvenation
HOW LONG IS THE PROCEDURE FROM START TO FINISH?
Approx 45 mins to 1 hour per two test tubes.
WHICH FACIAL AND BODY AREAS CAN BE TREATED?
Around the eyes – Peri Orbital Rim
Cheeks and Mid face
Cheeks
Thinning skin on the neck
Jaw Line and Sub Malar
Back of hands
Decolletage
Other Body Areas
SIDE EFFECTS OF ACR- PRP FACIAL REJUVENATION
Minimal: Expect minimal swelling, bruising and redness for 12-24 hours. Some clients experience headache.
Modest: Some patients may feel faint. A bruise at the venapuncture site may be visible for 2-3 days.
Severe: A low morbidity procedure. Almost no down time. No need for hospitalization. Anaphylaxis does not occur. In rare cases, skin cellulitis may occur which can be treated with antibiotics and cold compresses. Occasionally hospitalization is needed in these cases. Secondary skin infection is a rare complication.
EXCLUSION CRITERIA FOR ACR- PRP FACIAL REJUVENATION
Persons with skin disease (SLE, porphyria, allergies), cancer, chemotherapy, severe metabolic and systemic disorders, and abnormal platelet function (i.e. blood disorders). Anti-coagulation therapy and underlying sepsis excludes the use of PRP.
EXPECTATIONS FOR ACR-PRP
Results are visible at 3 weeks and improve gradually over ensuing months with improvement in texture and tone.
Cosmeceutical and Light therapies can enhance the results.
Advanced wrinkling cannot be reversed and a minimal improvement is predictable in persons with alcohol and tobacco abuse.
Severe scarring may not respond.