Wellcome to 
Dermestetica!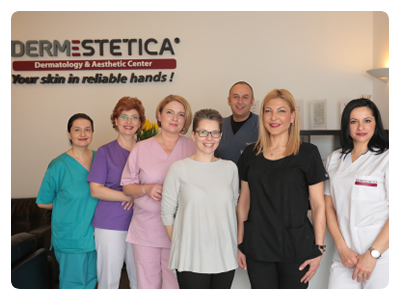 Located in the central area of Bucharest, in a very elegant and easy reachable area, in pleasant, warm and relaxing atmosphere, our clinic offers general, aesthetic and procedural dermatology.
In our clinic you can find appropriate treatment of common dermatologic conditions like acne, rosacea, warts, papillomas or psoriasis, surgical treatments (excisions, cauterizations, drainages), also we perform complete skin exam to detect abnormal moles and skin cancer.
Visiting our clinic, you'll find a unique place where you may discover professional solutions for dermatological problems and also benefit of the newest aesthetical procedures, personalised cosmetic advise and top medical equipements. You can regain your beauty after that tiredness, stress and passing time let the marks on your face.
Despite your sex or age, you can forget about your concerns that followed you for years (unwanted hair, broken vessels, redness, spots, scars, wrinkles).
Our specialists will help you with aesthetical advice and personalised treatment plan that will be fitted with your needs, schedule and budget.